Unique Providers does not endorse, support, or use any form of telemarketing.
Welcome to Unique Providers
We have been providing air duct cleaning services in the GTA since 1997.
Commercial Duct Cleaning
Are your employees sneezing at the office? Do you find it too dusty? When was the last time you cleaned your vents and furnace? Ask us about our commercial duct cleaning program
Residential Duct Cleaning
Before and After Inspection
Professional and Certified
Great Value, No Hidden Costs
Guaranteed Satisfaction
The Best Air Duct Cleaning
Improve air circulation and lower your energy bill.
Get the best duct cleaning service at the lowest cost.
National Air Duct Cleaners Association (NADCA)
The National Air Duct Cleaners Association is a not-for-profit trade association that serves the HVAC inspection, maintenance and restoration industry. With more than 1,000 member companies from more than 20 countries, NADCA serves as the focal point of the global industry.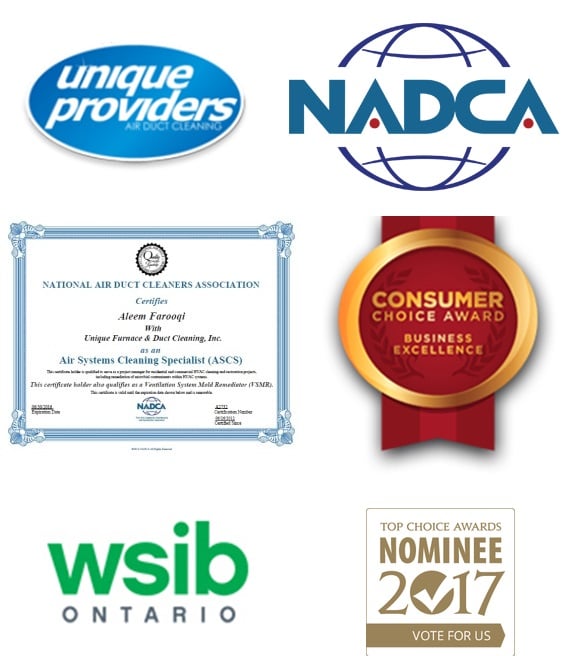 Best Air Duct Cleaning Service in Ontario
We are a NADCA certified air duct cleaning company with over 20 years of experience in the business. We provide a wide range of services for both residential and commercial clients.
We strive to offer the best service possible to every customer, each and every time, and are constantly finding and developing ways to do it better the next time around. We know that in order for us to be successful, we must ensure that our clients are satisfied.
Quality Service is Our Guarantee
We deliver superior air duct cleaning services to the Greater Toronto Area, Brampton, Caledon, Maple, Milton, Mississauga, North York, Oakville, Richmond Hill, Toronto, Vaughan, and Woodbridge.
We are an award winning duct cleaning services provider with over 20 years experience in the business. No job is too big or too small, we've got you covered.
Our team is very experienced in both residential and commercial projects with an attention to detail that guarantees client satisfaction.
We love our clients and they love our work.